An American Atheist is a radio show and blog highlighting news and topics relevant to atheists and religious criticism. We encourage free thought and enjoy inviting our listeners onto the program to have their say. Our show is licensed under the Creative Commons and is available for rebroadcasting, remixing and anything else you'd like. We're not for profit. Check out our podcast and thanks for listening!
If you have any questions or comments, or just want to get in touch, you can use the Contact link at the top of the page.
Frequently Asked Questions
Do you accept guest submissions / are you looking for writers?
Absolutely. We do ask that you make your writing available under the Creative Commons as we have all done for the public good. Submit your writing via the Contact link and we'll get back to you!
Why is swearing censored on some broadcasts?
The show is re-broadcast on terrestrial FM stations at times and we are bound to the bylaws of the FCC, which outlines hefty fines for single utterances of swear words.
Do you offer additional formats for the podcast feed besides MP3?
In support of the free software movement, we offer an Ogg Vorbis feed, starting with Episode 58, at http://anamericanatheist.org/?feed=podcast_ogg. Episodes before 58 do not have a lossless version of the audio to convert from, though we can make them available via a lossy-compression from the original MP3 if requested (use the Contact link at the top of the page).
Is there a difference between 'An American Atheist' and the 'American Atheists'?
Yes. 'American Atheists' is the civil liberty group founded in the 1960s and 'An American Atheist' is this publication and corresponding broadcast. Though the writers and pundits at An American Atheist tend to support the causes of the American Atheists, we are not affiliated with their organization in any way.
Contributors
Thomas Beasley
Tom Beasley holds a J.D. from the University of the Pacific, McGeorge School of Law and a B.A. from the University of California, Davis, with a double major in English and Classical Languages (Ancient Greek and Latin).  His interests include politics, technology, religion, literature, language and video games.
Email: tom@anamericanatheist.org
Colin Wright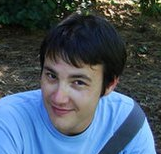 Colin Wright is a graduate student at the University of Pittsburgh studying behavioral ecology and syndromes in social spiders. He obtained his B.S. in Ecology and Evolutionary Biology from the University of California, Davis. After graduate school, Colin plans on continuing behavioral research as a Postdoctoral Fellow, and ultimately become a college professor. Colin has been active in the atheist movement for nearly seven years by starting clubs, booking speakers, attending conventions, and maintaining an active blog Warm Little Pond. Colin is fascinated by the natural world, and has deep interests in evolutionary biology, and especially how it can be used to illuminate the mechanisms governing the behavior of animals.
Apart from academic interests, Colin enjoys reading, writing, and watching movies that are so bad they're good.
Email: darwiniac@gmail.com
Robin Marie
Robin Marie Averbeck is a graduate student in American history at the University of California, Davis. She received a BA in History and Political Science in 2006 from the University of California, San Diego. While in San Diego she wrote for both The Guardian and The MQ,and has recently written for HealtyCal.org, an online news source about California. She also blogs about politics and culture at The Ministry of Silly Thoughts.
Robin's favorite intellectual interests are revolutions, particularly the American, French and Russian Revolutions, the Enlightenment, and progressive politics. Her hobbies are reading and writings things not required for her dissertation; apart from reading and writing, taking care of her beloved Miniature Schnauzer Maverick takes up most of her spare time. Her favorite TV shows are The Wire and Six Feet Under, which she believes collectively trump almost any movie ever made. Her favorite people include Jon Stewart and Tim Lincecum. She finds it odd to write about herself in third person.
Email: robin@anamericanatheist.org
Christopher Thielen
Christopher Thielen is the creator of An American Atheist and a graduate of the University of California Davis. He is a computer programmer, photographer, and music collector.
His personal atheism is best characterized by a heavy interest in science and culture.
You can find out more at christopherthielen.com.
Email: chris@anamericanatheist.org
You can view inactive and past contributors here
Special Thanks
Sean Johansson – Radio engineering
Jessica P. – Radio engineering
Kayla C. – Radio engineering
Chloe L. – Radio engineering
Technical Information
An American Atheist  is powered by WordPress and uses a variation of the 'Modern Clix' theme by Rodrigo Galindez.